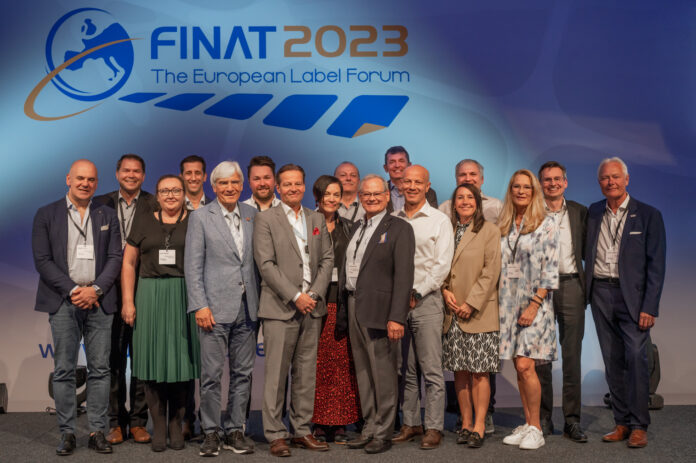 Picture caption: the old and new Board together on stage at the European Label Forum 2023 in Vienna
At FINAT's General Assembly on 31 May in Vienna, the new Board of the European label industry association was installed. The election coincides with FINAT's transition to a new governance structure that aligns with FINAT's '4 Pillar' strategy.
In three steps, the Board of FINAT will be expanded from 15 to 25 members to enable a broader representation of the membership across the value chain. Within the Board, the number of Executive Board members has also been increased from six to eight, of which four seats are now reserved for the chairs of the new, workstream based committee structure.
Each workstream now reflects one of the four pillars of FINAT's strategy:
Community: responsible for all FINAT internal and external communications and platforms, also supporting other workstreams in their communications.
Knowledge: responsible for creating and co-ordinating knowledge for the FINAT membership so all members get easy answers to their questions.
Collaboration: driving FINAT-led projects together with external parties and internal stakeholders to  strengthen the position of the label industry.
Advocacy: representing the label industry by monitoring and influencing developments in regulations & guidelines impacting the interests of the industry.
Each of the four workstreams includes a number of permanent Working Groups to manage the on-going programmes, and temporary Taskforces to develop new ones.
FINAT President Philippe Voet (who was re-elected for a second term) comments: "In today's pressing business environment, it is of critical importance that associations like FINAT are responsive to the needs and challenges of their members. With this new structure, we aim to combine the vision, know-how and experience of business leaders along the value chain with the operational excellence and agility of the workstream leaders and our professional partners. I am very pleased with the momentum that was created during the Committee Summits of last February and here in Vienna prior to the European Label Forum. I am looking forward to continue this momentum and work together as an industry on the goals and deliverables we have set for the coming years."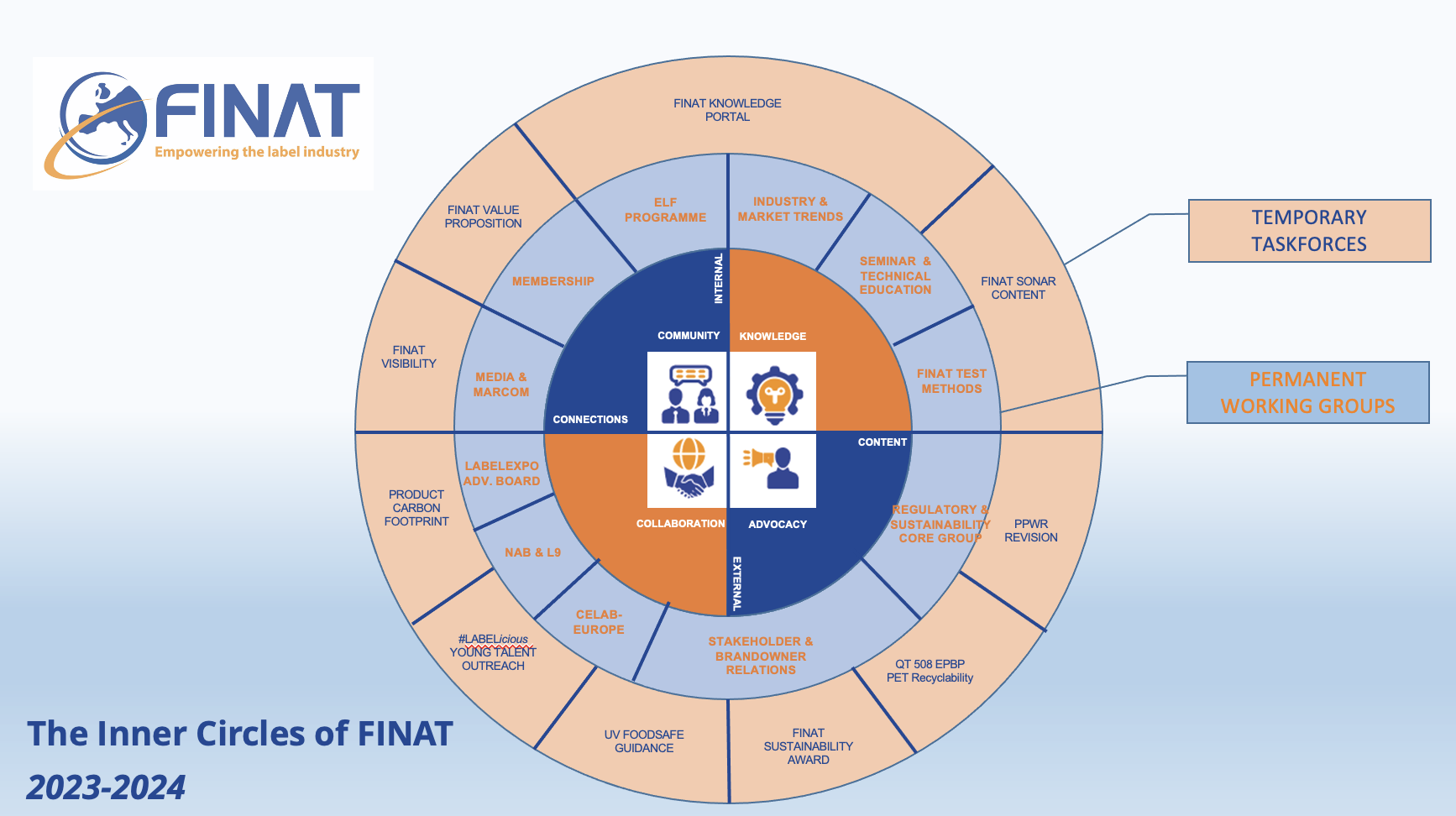 Farewell
At the General Assembly, FINAT said farewell to a number of long standing Board members who completed their final term:
Jakob Landberg (Nilpeter, Denmark), Francesc Egea (IPE Labels & Sleeves, Spain), Ferdinand Rüesch (Gallus, Switzerland), Alfredo Pollici (Notarianni, Italy), Thomas Vainio (UPM Raflatac, Finland) and Aydin Okay (Canpas, Turkey).
Welcome
At the same time, members elected a number of new Board members, and installed a new Executive Board. As of the 1st of June, the Board is composed as follows:
Philippe Voet (Etivoet, Belgium, President)
Dana Kilarska (Purgina Labels, Slovakia, Vice President)
Chris Ellison (OPM Group, United Kingdom, Past President)
Noël Kasmi (Avery Dennison, Netherlands, Treasurer)
Marika Knorr (CCL Label, Germany, Chair Workstream Community)
Harald Wallner (Herma, Germany, Chair Workstream Knowledge)
Alex Knott (Dow, Belgium, Chair Workstream Collaboration)
Päivi Knihti (UPM Raflatac, Finland, Chair Workstream Advocacy)
Tom Schouten (Geostick, Netherlands, Co-chair Community)
Nanette Thomas (Synthogra, Denmark, Co-chair Knowledge)
Uwe Düsterwald (BASF, Germany, Co-chair Collaboration)
Jonathan Sexton (Sun Chemical, France, Co-chair Advocacy)
Jens von der Brüggen (Schreiner Group, Germany)
Uwe Boerner (Gallus, Switzerland)
In the course of 2023, FINAT will announce further candidates to fill the present vacancies.
FINAT, founded in Paris in 1958 with headquarters in The Hague (The Netherlands), is the worldwide association for manufacturers of self-adhesive labels and related products and services. With more some 550 members in over 50 countries around the world, FINAT has much to offer to labels and package printing converters and all suppliers to the industry in terms of information exchange and in terms of international networking. www.finat.com
 For more press information, please contact:
Elke Verbaarschot, tel. +31-70-312 39 10; info@finat.com