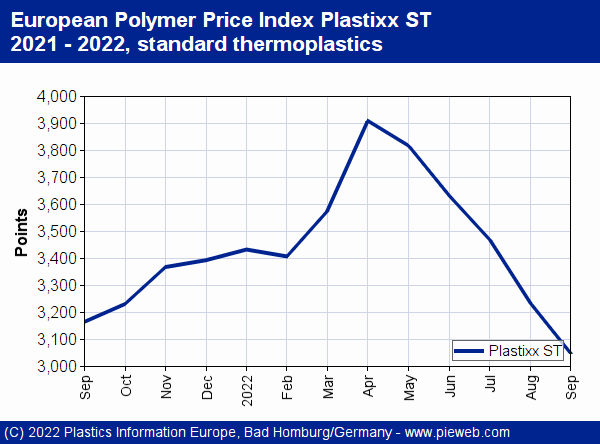 Standard thermoplastics September 2022: Downward price trend continues / Producers counteract decline in quotations by cutting back production / Processors increasingly with their back against the wall / No demand in sight
 PE: Prices continued to decline on the Western European market in September. Once again, the significant fall of EUR 120/t in the ethylene reference price pointed the way. On the other hand, the cutbacks in output implemented by producers are already having an effect with many materials. Despite the sluggish demand, producers were able to factor in at least part of their increased energy costs during the price negotiations with the converters. The result was that prices were reduced in line with the C2 decline or higher with only a few materials such as LDPE and HDPE pipe grades. For some LLDPE film grades, the reductions were restricted to no more than EUR 40/t, and for HDPE injection moulding grades to EUR 60/t. In October, too, producers will play the output reduction card to back up their effort to pass on the higher energy costs. This could well lead to a situation in which the latest fall in the ethylene reference – C2 dropped once again at the beginning of Q3 by EUR 45/t – will hardly be reflected in the October prices. The only possible exceptions are HDPE pipe grades, where the market is still characterised by a surplus supply situation, and EVA, which could experience another round of the ongoing price correction. Otherwise, however, most negotiations are expected to end somewhere near a rollover.
PP: What could be the superlative of "standing with your back to the wall"? Many converters will not want to think about it when they are already in that position. Production lines are being shut down and entire workforces put on shorter hours, while temporary workers are being sent home – all because demand from end-consumers is stagnating. Over the course of September, quotations for polypropylene compounds gave way steadily, yet producers of some grades were still able to push through energy surcharges. Here, glass fibre products were hit especially hard as prices for reinforcement material gained further momentum. For October, producers have already announced fresh energy surcharges of up to EUR 200/t. These may not be accepted by the market, however, as demand is simply too soft. A rollover looks more likely, along with small rebates for homopolymer. Converters may have to stock up on light-coloured compounds in the coming weeks, to fill orders from the automotive sector. On the whole, demand is still well below expectations, however. The situation is so dire that delivery of completed orders may well be pushed into next year.
PVC: PVC prices continued their downward trend in September 2022, falling for the fifth month in succession. Despite this, the price level remains high: base S-PVC is still 16.6% more expensive than a year ago, while E-PVC pastes are up 18.5% and S-PVC (U) is up 19.7%. In the case of base S-PVC, the combination of a falling C2 price and weak demand on the one hand and exorbitantly high energy costs on the other led to a broad spectrum of transactions in September – extending from sharp drops of EUR 120/t through to slight price increases. All in all, this resulted in price reductions that, on average, were below the pro-rata reduction in C2 costs. The price of compounds and paste also came under pressure in this way, particularly since additives failed to exert any influence in the opposite direction. PVC producers and compounders are thus attempting to offset the decline in prices by curbing production. Since demand is also suffering on account of the increasing fears of a recession, these efforts are having only a limited effect. The measures implemented by suppliers are also being counteracted by the increased inflow of low-priced imports. Against this backdrop, further price cuts can be expected in October. That would then be the sixth month in succession – and given the general turmoil probably not the last month of declining prices.
Styrenics: In September 2022, as in August, styrenics prices continued their nosedive. In the slipstream of the renewed drop in the SM reference (down EUR 287/t), all materials recorded triple-digit price reductions. EPS prices went down particularly fast, with the downward momentum even picking up in the course of the month. Suppliers reacted to the weakness of the construction sector by offering ever more generous discounts that ultimately reached EUR 400/t. In the case of PS – and to some extent ABS – the discounts remained below the cost reduction of the feedstock materials. This was because producers insisted on pricing in the soaring energy costs. Energy costs will also be a factor in the price movements in October. In fact, they have come down again a bit from the lofty heights they had climbed to a few weeks ago. Taking this into account, a producer for polystyrene already conceded a discount despite the styrene reference recording a slight plus of EUR 9/t at the start of Q3, thereby ending the massive decline of the two previous months. Meanwhile, the weak demand for all styrenics means that no rapid recovery can be expected. Fears of recession are scaring off purchasers everywhere, both among processors and end market consumers. Many players in the plastics industry are already looking forward with excitement to the upcoming K 2022 and, above all, to what stimuli the world's leading trade fair for their industry will provide.
PET: The downward economic turmoil severely impacted the European PET market in September 2022 as well. Despite numerous production curtailments and the rescheduling of maintenance work to an earlier date, European producers were left sitting on their volumes with warehouses beginning to "burst at the seams". At the same time, low-priced imports were still available but even these frequently remained in the warehouses at the major ports. This is because converters are likewise sitting on high-quality material inventories that were bought when prices were still high, since the outflow to the end markets has been no more than a trickle. In the course of the month, prices thus fell accordingly from one week to the next and, ultimately, the price reductions even extended well into the triple-digit range. October looks set to be a very testing time for all market participants. The prospects are like looking into a dark tunnel with no indication of how long the tunnel actually is. Warehouses are fully stocked everywhere, production is expensive, and demand looks to be very low. Against this backdrop, further triple-digit reductions seem likely.
For more than 35 years, PIE has been an invaluable source of information for European plastics industry decision makers – a quick, yet in-depth look at the development of plastics markets and polymer prices. Available online 24/7 and as a printed newsletter twice a month. To read the entire report, go to www.pieweb.com and sign up for a 48-hour free trial!