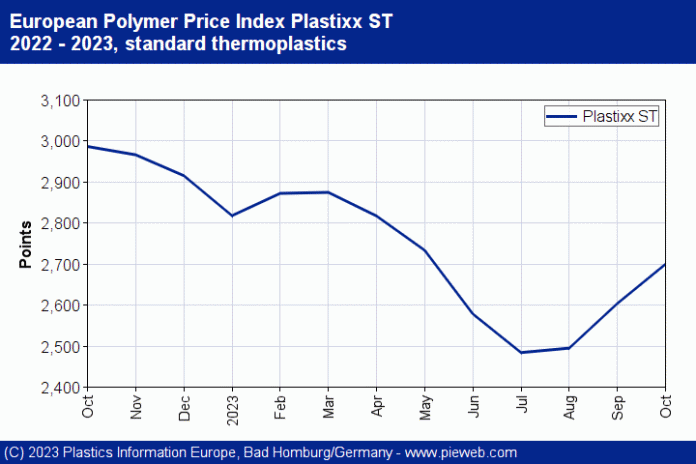 At least there's one thing everyone agrees on – for all intents and purposes, the year is over / Producers, processors at odds over passing on feedstock prices / When will demand pick up again?
PE: After the announcement of the EUR 65/t increase in the ethylene contract in October, the course was set for producers to hike their prices for PE grades. Some of them took significantly more time than usual to put their offers on the market. Referring to the poor availability of a few materials in Europe and the unsatisfactory margin situation, it was not rare for producers to call for triple-digit rises – with some of them also being successful. Because of the long-lasting cutbacks in output at European plants, the first supply problems were reported for some speciality products. The consequence was that many orders could not be accepted but were cancelled or postponed. Orders for commodities, on the other hand, were met across the board. Converters reacted to the price increases by calling off their stocks, which they had wisely built up in the summer months, having anticipated rising prices and a miserable supply situation. For this reason, they ordered only what they absolutely needed. As before, capacity utilisation at many companies was unsatisfactory, and was at best the same as in the previous month. In November, the reduction in the monomer contract of EUR 45/t is expected to put significant pressure on polymer prices. In view of the tight supply with some materials, it is unlikely that this reduction will be factored in completely. Converters are, however, expected to take advantage of the start of the year-end talks to persuade producers to make concessions. Nevertheless, nothing very much is likely to change as regards the fundamental data this year.
PP: The EUR 60/t rise in the propylene contract served as the template for many transactions in Europe. Previously, producers tried in vain to push through triple-digit increases. In a few cases, contracts were sealed with more modest rises. The wheels of European production still lacked sufficient oil, with scheduled turnarounds and unplanned outages keeping supply reduced. It was enough to fulfill contract terms, however. Buyers who needed additional material had to be patient. Even imports didn't do much to improve availability. Not all converters were in the same boat. The scenarios they described ranged from cancelled orders and short-time working to a modest improvement that as still not entirely satisfactory. Those supplying the automotive sector were among the few who still saw a glimmer of hope. Demand from the packaging industry remained soft. And what's next for November? The EUR 40/t drop in the cost of propylene is likely to send polymer prices plummeting again. Annual discussions and continued subdued order activity could even encourage some providers to offer deals to at least reduce their own inventories a little before the end of the year. Processors' order books are not yet really full: requirements will at best stabilise at a low level. Nobody expects any improvement this year.
PVC: Prices in Europe rose slightly again, for the second month in succession. Producers took the increase in the ethylene contract (up EUR 65/t) in October as a guide and, in numerous contracts, this was priced in on a pro-rata basis at least. In the further course of the month, the hikes became less pronounced, however. European plants were still operating with their output curtailed to a minimum and the quantity of imported material on offer was smaller than in previous months. Despite this, sufficient volumes were available on the market as demand continued to be sluggish. New construction remains at a low level and only building renovation is generating a limited amount of momentum. Contrary to the case at 2022's K trade fair in October, the start of annual talks has failed to provide the necessary 'push' factor. Processors held back at Fakuma and still proceeded with great caution when ordering material for the coming months. As far as the outlook for November is concerned, the clear drop in the C2 reference (down EUR 45/t) is set to exert pressure on prices again. A downward trend would thus seem likely.
Styrenics: The rise for styrene in October (up EUR 60/t) fuelled further price increases in the European market. Premiums, however, did not reach the full extent of the feedstock material, dashing producers' hopes. The position of processors was very strong, supply good, and demand too low for that. As in the previous month, enough material was available. The lack of stimuli from consumer markets remained. By consequence, processors also placed only few orders and proceeded cautiously. The styrene reference for November is not yet available. However, spot prices have fallen significantly – in recent weeks, they followed the decline of feedstock materials benzene and ethylene, going down EUR 150/t. The SM contract is likely to also be headed this way. However, it is not to be expected that PS will also go down as much; producers will know how to prevent that. The situation is very similar for EPS insulation materials. Producers tried – daringly but in vain – to price in the October increase in the styrene reference. In this, they were thwarted by construction, one of the main consumer industries, as it is still down on the ground. In the end, they had to settle for premiums between EUR 20/t and EUR 40/t. Seasonal factors will likely aggravate the situation for insulation materials. Winter is an unlikely season to start construction projects; façade renovation also goes into hibernation.
PET: The ongoing misery in the European PET market appears to have reached a new peak in October. Demand remained well below the normal level at the start of the post-season period too. Midway through October, producer JBF Global announced that, for economic reasons, it would also be closing the second of its two lines in Geel, Belgium, at the end of the month. In the wake of this announcement, the still-relatively low number of contracts that were being concluded spanned a wide price range. All in all, European producers managed to pass on at least part of the PX cost increase in their regular business. As far as demand is concerned, market participants agree that nothing more can be expected this year. Later, JBF surprisingly announced that it would keep the second line in Geel running after all, so as not to leave customers completely out in the cold. The company did, however, specify that this could only be done on condition of acceptable feedstock prices. Attention then turns to the PX reference for October, which was not available at the time of going to press. Players are caught between a rock and a hard place here given the global oil price levels and slack demand. Tough wrangling is on the cards for November in light of the global situation, with presumably attractive import offers set to tip the balance.
For more than 35 years, PIE has been an invaluable source of information for European plastics industry decision makers – a quick, yet in-depth look at the development of plastics markets and polymer prices. Available online 24/7 and as a printed newsletter twice a month. To read the entire report, go to www.pieweb.com and sign up for a 48-hour free trial!