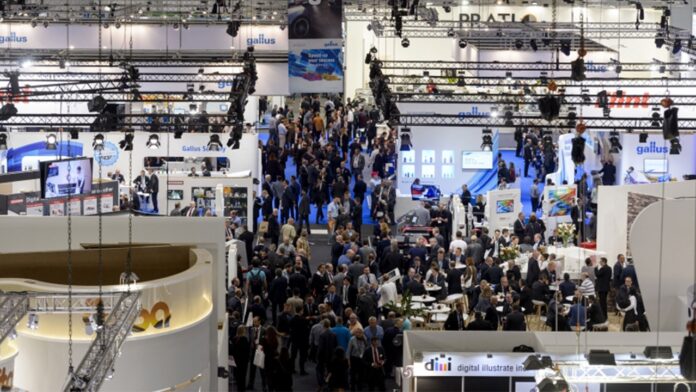 New venue promises benefits for exhibitors and visitors 
Tarsus Group, organizer of the Labelexpo Global Series, has announced that Labelexpo Europe will move from its current location at Brussels Expo to Barcelona Fira for the 2025 edition. The move does not affect the upcoming Labelexpo Europe 2023, which will go ahead as planned at Brussels Expo 11-14 September.
The move to Barcelona in 2025 comes after extensive consultation with label industry stakeholders and takes advantage of the excellent facilities both at the Fira venue and in the city of Barcelona.
'The benefits for both our exhibitors and visitors in moving Labelexpo Europe to Barcelona are clear,' said Jade Grace, portfolio director at Labelexpo Global Series. 'We have reached maximum capacity at Brussels Expo, and the Fira heralds the next phase for Labelexpo Europe's growth. The bigger halls promote an easier flow of visitors around the show and the infrastructure lends itself to the technical needs of our exhibitors. The modern halls are equipped with a ventilation system to continuously replenish the air and the fast, complimentary wifi can link up to 128,000 concurrent users. There are extensive catering options and the venue has a strong commitment to green energy and sustainability – the Fira has over 25,000 solar panels installed on the roof.'
Fira de Barcelona is well situated for convenient access to the city of Barcelona with its world-class hotels, restaurants and tourist facilities. Barcelona offers more than 40,000 hotel rooms, estimated to be double that currently available in Brussels. Hotel block booking with discounts has already been confirmed by the organizer.
The venue is a 15-minute drive from the international airport and is located on two metro lines, for those travelling to the show by car there are 4,800 parking places on site.
Christoph Tessmar, director Barcelona Convention Bureau, commented, 'We are grateful to Labelexpo for choosing Barcelona for their flagship show! We look forward to hosting such an important event in 2025.  All city partners will help in making the event a huge success. We welcome the labels and package printing industry to Barcelona!'
Commented Lisa Milburn, group director of Tarsus, 'We will always look back with fondness at the years we spent in Brussels, where Labelexpo grew into the world-leading exhibition it is today. The move to Barcelona will build on that heritage and gives Labelexpo Europe the room it needs for future growth. The amazing Fira de Barcelona venue, and the commitment of Barcelona City to make the show a success, will ensure that Labelexpo Europe continues to hold its place as the world's leading event for the labels and package printing industries.'
Quotes from the industry:
"For decades Labelexpo has been the clock for the label industry. Working closely with Tarsus has helped BOBST to shape the future of the Label industry. The move of Labelexpo 2025 to Barcelona, a prime location, is a sign that Tarsus want to further reinforce its positioning as the place to be. We are looking forward to attending the event in 2025." Matteo Cardinotti, GM and Global Head, BOBST Narrow-Wide-Web
"Times change along with the requirements of visitors and exhibitors, and I have to say Gallus are delighted that Labelexpo Europe is moving to the Fira in Barcelona in 2025. Barcelona is a real destination city with excellent transport links, and the facilities at the Fira exhibition centre are outstanding, with a commitment to sustainability. This signals a new period in the history of Labelexpo Europe – the industry is evolving rapidly, and so is Gallus. We feel we are in step with the Labelexpo team in embracing this new change and direction, and look forward to heralding this new era with our long-term partners in growing and supporting the labels and package printing industry together." Dario Urbinati, CEO, Gallus Group
"We're excited that Labelexpo Europe is moving to Barcelona – a modern Expo center in a vibrant European city. We are looking forward to meeting and connecting with our customers and partners across the industry in Barcelona in 2025" Nataliya Malhanova, Director Innovation & Marketing Communication, Labels and Packaging Materials Europe, Avery Dennison
"As a Belgian national I will have to get used to no longer being able to visit this event in my own backyard. However, as the current FINAT President, and as an active participant and visitor of the Technical Seminar, I have come to value the city of Barcelona as FINAT's second home, with meanwhile 10 events that our association has organized there, right across the road from Fira exposition centre. From this experience, I am convinced that Barcelona will be a worthy successor of Brussels. I thank my home town for its hospitality of the international community over the past nearly 40 years, and wish our new hosts from Catalunya all the best in staging Labelexpo Europe for the years to come."  Phillipe Voet, President, FINAT
"I am very happy with this great news. I think it is right for Labelexpo to change and it gives a sign of novelty and modernisation towards the world of printing, which is constantly changing. I can't wait to be at Labelexpo in Barcelona, and start a new chapter. See you in Barcelona!" Nicola Lombardi, Marketing Manager, Lombardi Converting Machinery
"ABG has been a strong supporter of Labelexpo Europe since its earliest days in Brussels, and we have watched the show grow there into the global success it is today. That chapter will come to a close with the move to Barcelona in 2025, which will give the industry a chance to make a fresh start and build on the successful Brussels years. ABG believes this is the correct decision and we are greatly looking forward to presenting our automation solutions and other new developments at the fabulous Fira venue."  Richard Knight, Chief Executive Officer, AB Graphics
"When Grafotronic learned Labelexpo Europe will move to Barcelona in 2025, we immediately thought this was a good decision. The Fira exhibition centre provides all the facilities and transport links we need to grow the Grafotronic brand and present our new automated solutions to a global audience. We know the city of Barcelona well and can confirm it is an excellent destination for hotels with great places to network with our customers. We are certainly looking forward to 2025!" Mattias Malmqvist, Vice President, Grafotronic Printing Machines
"The Labelexpo series of trade shows has been and continues to be the pinnacle event for the label industry each year.  Domino is proud to be associated with these exceptional trade shows, and as Labelexpo Europe continues to grow and expand into new markets, we look forward to being in Barcelona in 2025." David Ellen, Global Divisional Director, Domino Digital Printing 
"The relocation of Labelexpo can be the spark to bring a whole new generation on board. The label industry has always been about re-inventing itself with creative solutions – this change should bring an acceleration of new people to the show, a reach into different regional markets, inspiration for new applications and as such fuel growth. It is bittersweet to see a departure from our home country Belgium, who has been home to Labelexpo Europe for almost 4 decades, but this change allows growth and this should be welcomed if the exhibition is to grow to the next level. Barcelona Fira provides all the space and facilities for that to happen, while the city itself is a great destination and major attraction for our global visitors – especially from Latin America." Filip Weymans, VP Marketing, Flint Group Digital
"Over the years, we have appreciated Brussels as the location for Labelexpo Europe, and we have held many fantastic events here that will forever be a part of Nilpeter's history. However, sometimes change is necessary, and in a time when customer experience and visitor expectations are constantly being raised, we believe that now is the right time for renewal to continue the development of Labelexpo Europe. We look forward to participating in Barcelona in 2025 and writing the next chapters in the history books". Jakob Landberg, Sales Director, Nilpeter
"We have always trusted the Labelexpo team to provide an experience supportive of both suppliers and converters. This shift to a more modern venue with ample services to support our advancing technology needs and room to grow with us as an industry further reinforces that commitment."Greg Palm, Executive Vice President, Marketing & Business Development, Mark Andy
"I think Labelexpo Europe 2025 in Barcelona is a great opportunity for the entire European and Mediterranean printing market. A choice that I share and support, which allows Labelexpo to grow further and bring a necessary novelty to the industry."
Marco Calcagni – OMET Sales & Marketing Director
– End –
For further information about Labelexpo Global Series, please contact:
Paul Connelly, Marketing Director, Labelexpo Global Series.
Email: pconnelly@labelexpo.com
Labelexpo Europe is part of Labelexpo Global Series. The show is organized by Tarsus Group, the international business-to-business media group.
To keep up to date on the latest Labelexpo Global Series news, follow Labelexpo on Twitter at @Labelexpo or visit www.labelexpo.com.