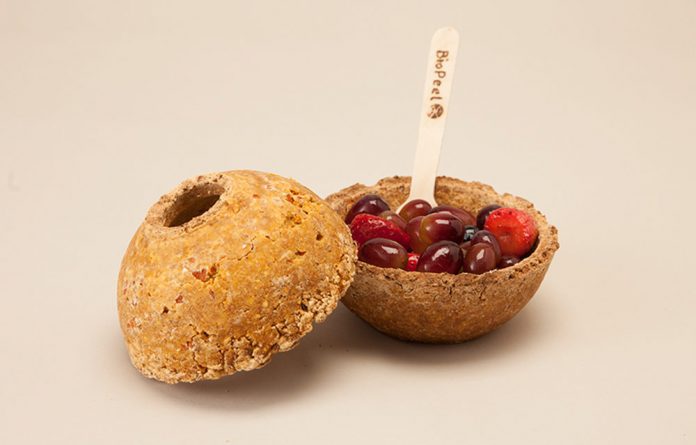 V egetables packed in tomato stalks and sweets in cocoa shells. It might sound a bit strange at first, but it's true: the packaging industry is increasingly using food waste from food production to manufacture new, more sustainable packaging. For example: Cardboard packaging made from tomato stalks and paper packaging made from the leftovers from chocolate production.
And oranges appear to be a particularly rich resource for the manufacture of sustainable packaging. When the citrus fruits are processed to orange juice, half of the fruit alone is lost, according to estimates. Three packaging innovations demonstrate how orange peel can be turned into useful food packaging.
FRUIT PACKAGING MADE FROM ORANGES
A British student at Brunel University London successfully developed robust and at the same time environmentally-friendly packaging material made from orange peel. A large part of the new Bio-Peel material consists of orange peel, a waste product in industrial juice production. After numerous series of experiments, the student finally found the perfect mixture of orange peel and other biodegradable products: the innovative alternative to plastic was created by adding biopolymers, vegetable glycerine, a biodiesel by-product and water. Shaped, baked and hardened, the biodegradable cardboard keeps food fresh for a particularly long time. Information on the procedure's implementation in industrial use is still pending.
The Miplascoe recycling economy project
Spain is also working tirelessly to turn orange peel into bioplastics. The largest producer of oranges in the European Union has initiated the Miplascoe recycling economy project for its packaging and agricultural sector. Various Spanish companies have joined forces with the university in Sevilla to cooperate in the project, which aims to turn the waste from orange juice production into sustainable food packaging. When dried, the material is just as robust and flexible as plastic, with the additional advantage of being biodegradable. The more sugar the fruity leftovers contain, the better the necessary fermentation can be processed. The biopolymers' different molecular weights let manufacturers adapt processing individually, which in turn allows this innovative material to be used in a variety of industrial areas. However, manufacturers must stabilise conservation immediately after production in order to prevent bacteria and fungi from forming. The project is still in the testing phase.
Orange waste in cars and insulation
As early as 2006, an English chemist successfully created a method for replacing mineral oil-based products with a plastic made from orange peel. Since then, international research groups have been working on bio-based plastics as a foundation for different types of sustainable packaging. In Germany, the Albert Ludwig University in Freiburg and the University of Bayreuth were among the universities who succeeded in making orange peel react with carbon monoxide. This creates a transparent natural material that is particularly heat-resistant and can therefore be used as coating for the interior and exterior panelling of cars and even as insulation.