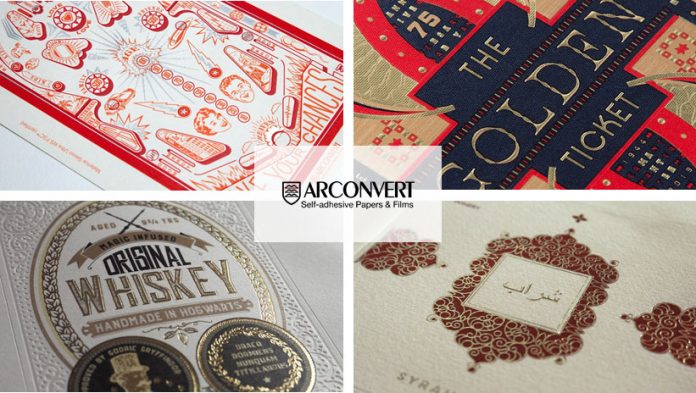 Arconvert presented new releases celebrating tradition and innovation at the 40th LabelExpo Europe, held at Brussels Expo, from 24th to 27th of September 2019.
T he past met the future at the 2019 Label Expo Europe, the world's largest label event held in Brussels on 24th to 27th September, when Arconvert proudly came to celebrate 75 years of the Manter pressure-sensitive portfolio and present exciting new technologies and announce new developments as part of their ongoing commitment to the environment. A record-breaking number of visitors: over 1,800 came to the vibrant Arconvert stand to see the two new beautifully presented catalogues featuring stunningly printed labels.
The brief for a special celebratory catalogue was met by the renowned JJ Bertran Studio with "Avec Plaisir" which contained a visual feast of label designs on 10 self-adhesive papers that have, in the last decade, revolutionised labels for high-end brands. Each exquisite label tells a story, stimulates the senses, is thought provoking, at times provocative, but always inspiring. The labels, on iconic Manter papers, showcase the impressive scale of detail possible in the hands of an inspired designer and highly skilled printer and is a must-have catalogue essential to customers looking for quality, versatility and technical potential.
However, LabelExpo wasn't just an occasion to celebrate past successes, but a signal to all designers and printers that Arconvert is all about the future. A new catalogue named "Innovation & Inspiration" contains appealing new self-adhesive materials featuring the X-Dry™ waterproof technology and High Opacity technology H+O™ along with a brand new permanent acrylic adhesive SH9020™.
These latest revolutionary technologies developed by Arconvert together with the Fedrigoni Group's paper masters meet the ever-increasing demanding market requirements for producers who depend upon highly performing labels that maintain their initial appeal even through the ice bucket challenge and fridge temperature fluctuations. Innovation & Inspiration opens a world of possibilities for premium label printing featuring not only Arconvert's latest technologies, but also additional pressure-sensitive papers that stand out for their unique textures. Visitors loved the new textures with their high printability and versatility which are highlighted by the original printed labels showcased in the catalogue and dedicated to iconic innovators who have revolutionised the world by either having made giant leaps for mankind with their discoveries, or are current day inspirations and innovators in modern-day culture or in industries.
Arconvert was also proud to announce that all its pressure-sensitive papers have achieved the FSCTM certification as a standard.
www.arconvert.com.

Arconvert is a global leader in the production of pressure sensitive materials
for the label industry. By combining the unique and beautiful textures of the
face-stocks produced by parent company Fedrigoni with high performance technology
for when in contact with water, ice and condensation as well as sustainable
solutions and specific security features to effectively overcome issues of
counterfeiting, Arconvert´s products not only meet the highest aesthetic
requirements, but also represent state-of-the-art technical innovation for
labelling and brand protection.